"Learn to ride with us at our Essex Training Center!"
Pictures of some of our "workforce"!
Pass Bike provides WK Motorcycles for its Students training. Category A students have to take their test on a "big bike" so it makes sense to train on a big bike, especially if your riding aspirations are over 600cc!
Pass Bike provide WK 650i's which are wonderfully maintained and respected as a smooth maneuverable machine with a low center of gravity.
In layman's terms its easy to ride... Especially slowly!
---
NEW FOR 2017 - A New "Super Low" Black WK 650i Joins the Pass Bike fleet with a low seat height of just 720mm (The same as a Harley Davidson Low Rider) with excellent manuverability.
---
"A2 Licence enters the DAS world...
On a 47bhp 650cc Motorcycle!"
19 years old? Take your training and test on one of our WK 650i's! Specially tuned to meet the DSA test requirements, its a great step into the medium power world of motorcycling. The A2 licence category now has many new large scooters joining the already wide selection of 47hp motorcycles. Manufacturers like Piaggio, Vespa, Honda, Kawasaki, Yamaha and BMW all make automatic "twist and go" scooters.
Training on our bikes is great but training on your own bike saves you money and gets you experience in riding your own machine! No machine of your own? No problem why not train using one of our expertly maintained bikes which is provided within the cost of the course.
For the latest News & Reviews:

Pass Bike presents
Low cost insurance from: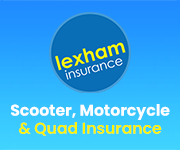 Work for the Fire, Police or Ambulance Services? Enjoy discounted rates on all our courses!
For more details email your inquiry to info@passbike.co.uk
Or Call 01702 619423
Check out our face book page for our latest offers!