Putting a face to the voice or name is important,
Here are Some of our "faces"!
Name: Mr Ian Burrell MBE
Position: Owner, Chief Instructor, Course Author.
Comments: "The first bike I can remember seeing was a black Harley Davidson in Poole harbor Dorset, I loved the look, that iron engine thumping into life was the thing that got me wanting a bike. I have seen some great times and some terrible times around bikes. Thats why I started Pass Bike, to enjoy whatever bike you choose, the first thing to do is be safe riding it. Our training is tailored around you and your aims. All our courses are written in house with a great deal of care and attention. Our CBT and DAS courses are validated and approved by the Driving Standards Agency. Our Advanced course uses the blue light skills gained responding to emergency calls and puts the focus on the system of road-craft taught in emergency driving. All the ARC instructors are regularly assessed for high speed driving by their own emergency service. M.I.C.C is probably one of the most comprehensive motorcycle first aid courses around. We are registered with the association of first aiders. The course is taught by serving Paramedics who use these same skills during their operational duties.
So you see Pass Bike isn't just another bike school that wants you to pass your test. Of course we want that too! But we want you to keep riding with the skills you leave us with, I believe Pass Bike truly offers exceptional training at amazing prices."
Bio: DSA Cardington approved, Emergency Services Blue Light Trained, HCPC Paramedic Instructor Pped, Chief Ambulance Officer Commendation for motorcycle accident reduction in the East of England, Prince Michael International Road Safety Award Winner 2011 and FIM International Road Safety Award winner 2012. Awarded the MBE in 2014 for services to motorcycle safety. Riding bikes for 30 years... Won't say how old he is!
---
Name: Mr Graham Isbell
Position: CBT & DAS Instructor
Comments & Bio: With over 30 years riding experience under his belt, Graham is able to offer students expert advice whether you are new to bikes or a returning rider. Our training is tailored around you and your aims meaning that Graham can offer advice and guidance on whichever type of machine you choose in the future.
For the latest News & Reviews:

Pass Bike presents
Low cost insurance from: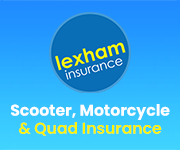 Work for the Fire, Police or Ambulance Services? Enjoy discounted rates on all our courses!
For more details email your inquiry to info@passbike.co.uk
Or Call 01702 619423
Check out our face book page for our latest offers!